Posted by Jyl on 22nd Feb 2021
Scientists and philosophers often say the only constant in the universe is change. That certainly is true in the cannabis industry. Twenty years ago, no one could have imagined the number of states with legal cannabis use for medicinal and recreational purposes. Then hemp and CBD came along, nudging more states, countries, and individuals to consider cannabis as a marketable commodity, a supplement to a healthy lifestyle, and an alternative to the high-THC products widely available these days. Even my own father, born in 1924 and a life-long opponent to all things marijuana, came around eventually, once he discovered the power of CBD oil for himself. Now, as uses, technologies, and varieties continue to evolve, cannabis consumers, growers, and industry promoters are turning their attention towards Delta-8-THC.
Delta-8-THC is a cannabinoid found naturally in small quantities in the cannabis plant, and differentiated from Delta-9-THC by the location of the double bond of carbon atoms within the cannabinoids' molecular structures. Both Delta-8 and Delta-9 bind to CB-1 receptors within the endocannabinoid system, but in slightly different ways, which may be why the effects of Delta-8-THC are not as strong as Delta-9-THC when consumed.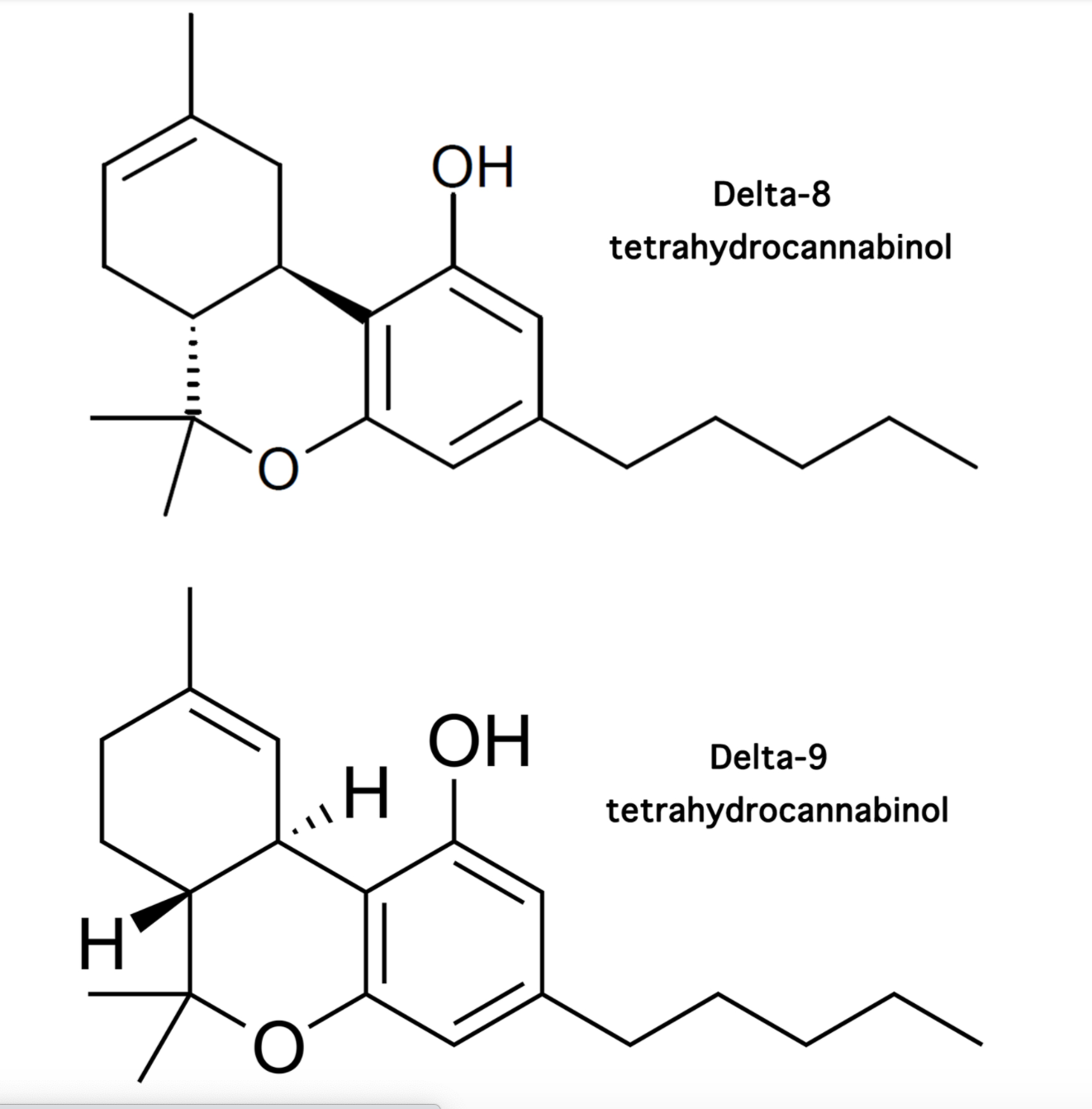 The effects of consuming Delta-8 have been described as "smoother" than Delta-9, less sedative, and lacking the anxiety and paranoia some experience. I myself have smoked various different D8 infused strains, and eaten a few gummies. Smoking the flowers, I feel a few minutes of uplifting happiness in my brain, and an overall release of tension within my body; I would describe it as the feeling of smoking chronic CBD bud, but with a little more headiness than plain ol' CBD. The effects didn't last as long as D-9_THC for me, but I prefer strong weed; for that reason, users may feel Delta-8-THC more than I personally do. As far as the gummies, I consumed one at bedtime, and had 8 hours of peaceful, uninterrupted sleep. I also noticed pain relief and a very relaxed feeling throughout my body. Overall, I would say Delta-8-THC would be a great alternative for those looking for the uplifting feeling found in THC, without the heaviness or psychoactive effects sometimes experienced when consuming Delta-9.
Of course, where fun with plants and emerging technologies converge, law enforcement is sure to follow. The rising popularity of Delta-8-THC is leading to more scrutiny, calling into question it's legality in the U.S. While the 2018 Farm Bill legalized hemp cultivation (cannabis plants with less than .3% Delta-9-THC), Delta-8-THC and the technology used to extract it from hemp flower was not explicitly legalized in the Bill, finding us once again in a gray area. Growers and industry participants have been here before; there is currently a rush to be part of this emerging trend before another rule change could close a potentially profitable market (those of you who have been on the cannabis legalization train know what I'm talking about). My advice to anyone interested in Delta-8-THC is to get it while you can, and call your state and federal representatives to encourage them to finally decriminalize all forms of THC, and the cannabis plant. The time for true, nation-wide cannabis legalization is now.
More information on the legal minor cannabinoids which are derived from hemp can be found at cannabusiness.law including an excellent legal summary provided by Rod Kight (an international cannabis and hemp attorney. He speaks at cannabis conferences across the country, drafts and presents cannabis legislation to foreign governments, is regularly quoted on cannabis matters in the media, and maintains the Kight on Cannabis legal blog, where he discusses legal issues affecting the cannabis industry).
Follow HEMPBEST co-owner and the author of this blog post on InstaGram @realsmokahontas