Posted by Rocky The Grower on 23rd Sep 2022
These plants are amazing! Their fragrances range from sweet berries to birthday cake to foul burnt rubber, garlic and ammonia. The smell of pure and potent cannabis wafts out from our garden into the surrounding area giving everyone who passes by "free smells" of the various terpenes emanating from the plants.
We have 15 different strains in our field this season and we plan to offer them as cured flower, tinctures, topicals, pre rolls and a bunch of new solvent-less flower rosin blends that we are rally excited about. Some of the standout strains this season include a perennial customer favorite "Sour Space Candy" bred by Oregon CBD, new to the market "Kush Cake" from the HOKU Seed Co.'s "RKD Series" as wll as the unique utterly abrasive and loud "Mad Dog" which is a pure type IV CBG dominant variety.
This season has been a memorable one for weather as we have had a lot of sunshine, little moisture and so far less than normal wind (remember we are on the coast). Though I am sure that the big wind and big rain that normally occurs mid-fall is just around the corner. So while we are truly enjoying these warm and pleasant days of indian summer we are also hustling about readying our crop for harvest and preparing our processing areas and drying rooms.
Since we are surfers here on the Oregon Coast and it happens to be the best time of year for waves we also have to admit that it's not just all work (although it mostly is :)). During the month of September our daughter (pictured below) competed in two back to back weekend surf contests (The Agate Classic and the Cape Kiwanda Classic) which allowed us some serious beach time. And of course I am constantly checking the forecast and current conditions in order to score the best waves possible. In fact, this past week has been a quite a memorable one for quality surf.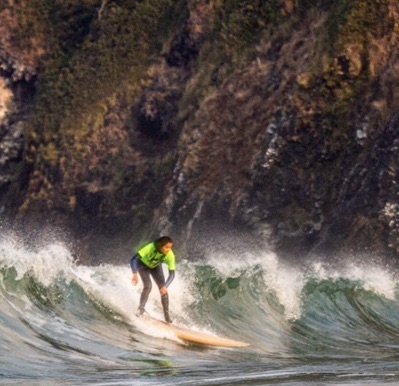 What a great growing season 2022 has been! We thank al of you for your continued support and hope that you will follow along on our social media sites as we continue to post pics and stories as well as live stream this years harvest-a-thon! And soon we will have the best deals on the best flower and various other products available in out store.